Now, more than ever, does the world need modern marriage counseling and even more marriage counselors. The COVID-19 pandemic has created an 'invisible' mental health epidemic. As a result, we see even higher anxiety, depression, suicide, and divorce rates higher than in previous years.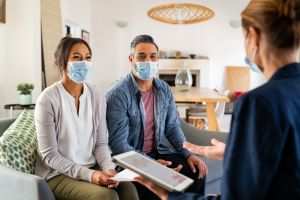 The lockdown of last year, combined with the 'pressure cooker' conditions that persist today, has created the perfect environment for negative cycles, patterns, and worsening of domestic issues. The good news: people are seeking marriage counseling more often now, more so than in previous years.
Marriage counselors have observed that from 10% of total therapy sessions, 90% of sessions are now teletherapy. Many factors contributed to the preference for this therapy type. The first would be safety because couples won't have to drive to the clinic or office to obtain counseling/therapy.
The second would be convenience – couples won't have to hire a babysitter anymore or take time off from work. The marriage counselor's office just became much more convenient and accessible than before. Teletherapy sessions have also made it possible for couples to attend synchronously, which wasn't always possible when a physical counseling session is scheduled.
Couples who attended teletherapy sessions thought that the therapist was fully attentive to their needs, was present and active during the therapy and the teletherapy session was just as involved and effective as a physical, in-person counseling session.
Marriage counselors are considered frontline workers because they address the hidden epidemic that can strike anyone at any time. Mental health problems and couples' issues are just as critical as any infection. Simple, unresolved issues that affect families and couples for years can cause a breakdown of the family unit, which results in numerous other problems that can last a lifetime. The constant stress of our reality now can wreck homes and lives.
Couples that were fine before the pandemic may be silently struggling now, unable to cope and manage their emotions and relationships properly. On top of the dangers of COVID-19, the realities of job loss, increasing rental prices, long periods of enforced domesticity, and a multitude of anxiety triggers affect everyone. The idea of the perfect, unaffected couple is false. It's an illusion because stress affects everyone, and we are dealing with problems that may take a few more years to resolve fully.
Marriage counselors are not bulletproof, though. Focus groups reveal that marriage counselors are also experiencing overwork and secondary traumatization from our work. Many marriage counselors are naturally worried about the work that they fulfill and the responsibilities that they have. Some are concerned that they are no longer able to care for their families. Many marriage counselors feel that they are taking on too many clients, and they are worried that they may soon have to stop caring for their families. There are also thoughts about going back to physical practice or continue working from home. Some are thinking of expanding their skillsets or perhaps get counseling themselves.
Despite these difficulties, therapists continue the golden practice of marriage counseling because they make fundamental changes to people's lives. Therapy works, and the interventions are making a difference in the lives of families and couples everywhere.
Suppose you are a marriage counselor who specializes in couples therapy or family therapy. In that case, you may feel frustrated with the challenges of bringing people back from the realities of the COVID-19 lockdowns to the present, where restrictions are easing, and people want to get back to the normal that they are accustomed to.  Marriage counselors have to deal with anxieties and the difficulties of the post-pandemic life.
On top of these anxieties are the lurking issues that make couples' lives difficult. Marriage counselors are on the frontlines of restoring communication and improving the chances of healing relationship problems that surfaced and even intensified during the COVID-19 shutdown.
As a marriage counselor, you may even be experiencing sessions that look like this:
   

You think the couple has rebuilt their emotional connection and has resolved some of the significant issues preventing them from communicating, only to come back months later, almost ready to throw in the towel.

   

Your clients successfully work through their frustration and the deep anger that surfaces from having an affair, but now both realize that they don't have sexual desire for one another, which makes reconciliation and furthering the relationship more challenging.

   

A couple succeeds in fixing any lingering resentment in the relationship, but they have zero sex life.
Remember that we are here to help people succeed, and while it's never an easy journey, we believe that we can all overcome.