Dave Kamis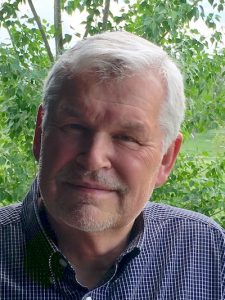 We all answer questions life asks of us: "What does my life mean?  What is my purpose?" From an early age I knew my purpose was to help others.  There is a saying that goes, "If you want happiness for an hour, take a nap. If you want happiness for a day, go fishing. If you want happiness for a year, inherit a fortune. If you want happiness for a lifetime, help somebody." 
I enlisted in the Army after high school and was a medical corpsman in an infantry division in Hawaii. I still dream of Hawaii.  After the Army I took a vacation to Colorado with Mary, the love of my life.  Sitting around a campfire in Rifle Gap we decided to get married – best decision of my life.  We rented a small apartment in Chicago while I studied psychology as an undergraduate at the University of Illinois.  I wanted to be a therapist, but personal life trajectories are not always predictable. After graduation I took what I thought would be a short detour on my way to be therapist and entered the printing business.  My short detour ended up being a wonderful 36-year career in printing and publishing.  
But my desire to help others never diminished.  All through my business career I volunteered.  I served on a local United Way Board.  I served on the Board of Directors of an agency serving developmentally disabled adults.  I tutored orphaned boys.  I worked on a crisis hot-line.  My commitment to help others continued as my publishing career wound down.  I returned to school and earned my Master of Social Work from Wayne State University, in Detroit, MI.  The moment I started graduate school I knew working with couples would be my focus.  Our essential connection with another person defines, protects and soothes us.  Unfortunately, our relationships are sometimes engulfed by repetitive and negative interactional cycles, destructive dances that can threaten core connections with our life partners. With this connection threatened our innermost vulnerabilities and fears can surface.  Emotionally Focused Therapy (EFT) can help restore this vital connection.
I am drawn to EFT.  EFT stays in the present-moment, which is consistent with the mindfulness with which I live my life as result of over 40 years of meditation.  It recognizes emotion as a core component of healthy relationships, which corresponds with my personal experience and my understanding of human behavior.  It acknowledges our personal realities are born from our social connections, which is consistent with everything I believe as a social worker.  EFT is poignant, powerful and proven to be effective.
Together, my incredible wife of 40 years and I have shared a loving bond and raised three amazing sons in a close-knit family that has grown to include two daughters-in-law and four grandchildren.  One-by-one our sons moved to the Denver area so Mary and I moving to Denver was a no-brainer.  I consider myself incredibly lucky. I live at the base of the Rocky Mountains, surrounded by a loving family, and have a job where I can help relieve others distress. There is no greater privilege when others allow me to bear witness to their pain and when they share their lives with me.  If your relationship is encountering distress it would be my privilege to help you and your life partner explore a path to restore your connection.